The Blue of Your Eyes Was Infinite
10' x 12'
Tracing Paper, Acrylic, Crayon, Polymer Clay, Hot Glue
Somewhere between the ridiculous and the fragile, this tarp sits. The tarp measuring 12 feet by 10 feet is an average sized functional tarp, but through my process of rendering it out of tracing paper, has become brittle, heavy, and functionless. If rained on, the tarp would nearly melt. If it wrapped another object, it would crack. Quilted from individual pieces of painted tracing paper, with a crayon rubbing, and attached with hot glue, this tarp amassed its size from sheets no larger than 8 inches by 10 inches.
Untitled (Tarp)
Untitled (Tarp)
Untitled (Outlet)
2.75" x 4"
Cardboard, Acrylic, Hot Glue
Don't Forget Your Pride
Cardboard, Acrylic, 2.5" x 4"
I Don't Believe You
Yarn, PVC, Resin, Acrylic, 18" x 13" x 44"
A standing mop, prepared for cleaning, is rigid and waiting. The posture of the mop is in a position that would allow the mop to be swiftly grabbed to clean with. The beige color of the mop is reminiscent of beige walls from inexpensive rental apartments.
The Tears I Cried Over The Works of Jane Austen
Collected tears I cried over the works of Jane Austen contained in a one-gallon jar. The jar remains mostly empty to keep room for the future tears I may shed.
Untitled (Toilet Bowl Cleaner)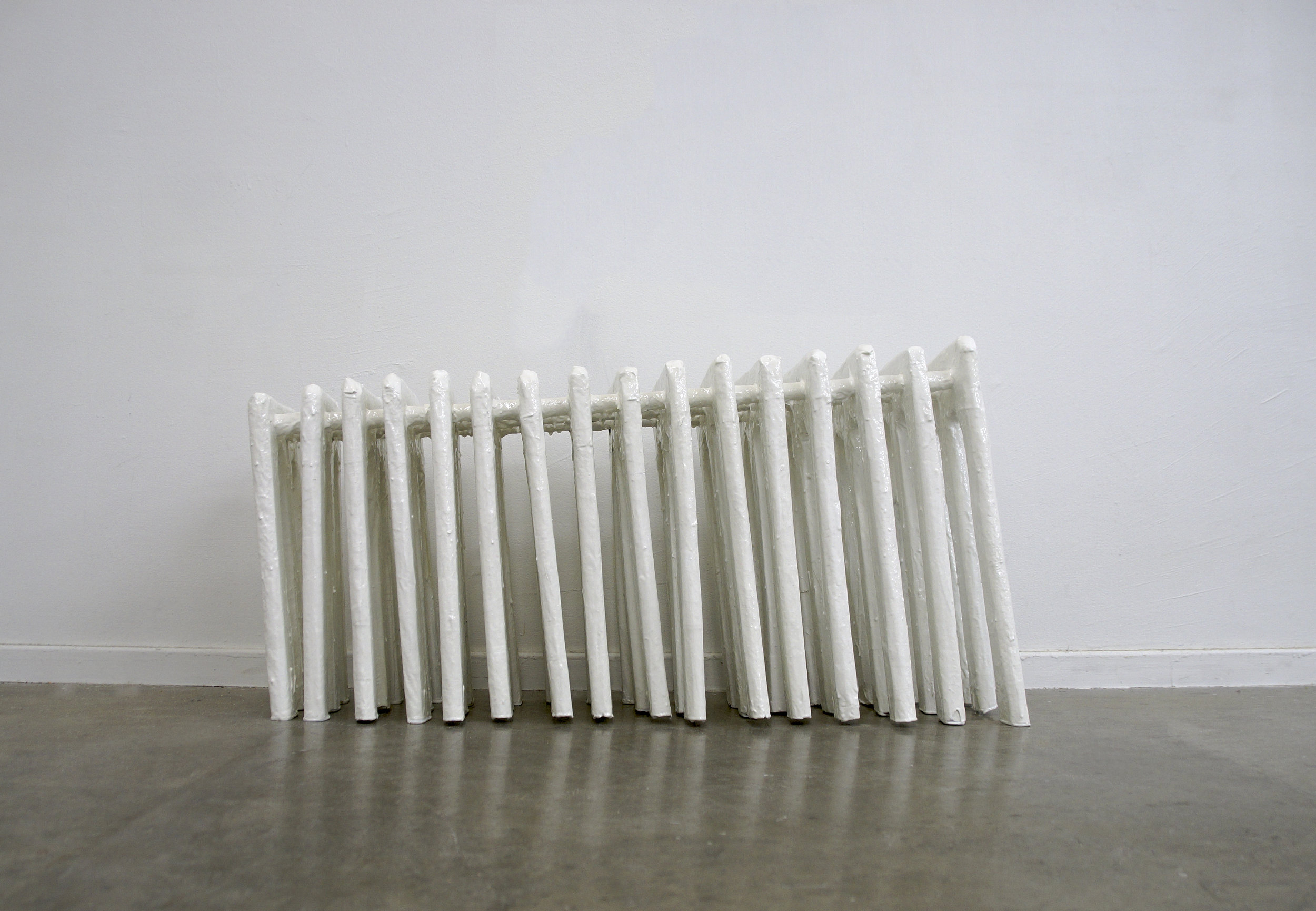 Poor Thing
A structure of pipes emerges almost invisibly from the wall, revealing a hidden structure of the pipes underneath. Poor Thing stands somewhere between the utilitarian, in its representation and the felt, in its lumpy posture and velvety surface.
Untitled 1 (Porcelain Paper Towel)
Untitled 2 (Porcelain Paper Towel)
Untitled 3 (Porcelain Paper Towel)
Untitled 4 (Porcelain Paper Towel)
Untitled 5 (Porcelain Paper Towel)
Untitled 7 (Porcelain Paper Towel)
Untitled 7 (Porcelain Paper Towel)