14,400 Breaths
Latex, Breath
14,400 Breaths illustrates the number of breaths I would personally take during a day of rest. 14,400 becomes the literal process of capturing concretely my own respiration to make manifest the idea of a day that did not exist. My life, my breath, has been forced into balloons that will eventually seep from or explode out of, but, in the present, at least in this image, are full of breath and movement for viewers to explore. The expiration of breath blurs into the expiration of life within the bounds of latex confines.
14,400 Breaths [detail]
Body of Water, Body of Fat
Plastic Bags, 98.14 lbs of Water, 15.9 lbs of Crisco
The amount of water in my body was measured, weighed, and presented in clear plastic bags on the floor beside the amount of measured fat in my body. The fat was placed on the ground through a performative act of temporarily ingesting Crisco and spitting or kissing it onto the ground. My spit and fat pilled onto and into itself through a process of abjection. The leaky nature of the bags references the temporary qualities of my own physical body.
Cover
Bed sheet, Paraffin Wax
To capture a moment in time, or maybe more so an idea of a moment, I contained a body in my bed sheet. The wax holds the moment as a reference to an intimacy between bodies or persons that no longer exists. The body sighs as heat and time force the form to collapse, later only remaining as a sunken shell of its previous form.
Cast Off
Bed Sheet, Paraffin Wax

This sheet documents a moment after it has passed, instead of striving to hold it. For this reason this sheet does not expire, instead it remains seemingly rigid.
Power Hour
Performance Document

In response to the untimely death of my student from an overconsumption of alcohol, I created a memorial performance displaying my conflicted conscience of indulging in actions that certainly harm me. Similar to the popular drinking game, Power Hour documented my exorbitant intake - I drank a shot of beer every minute on the minute for an hour.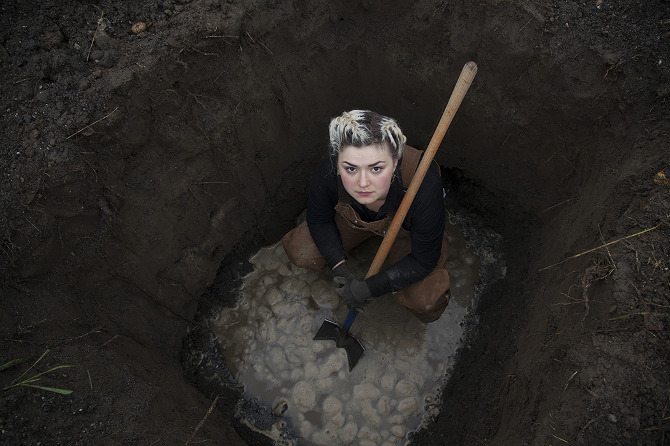 Dig
Performance Document
In order to physically feel the labor of loss through action, I dug a large square in the earth. This action, similar to many mourning acts, was performed privately. The violence of forcing myself so deep into the earth surprised and distressed me. I filled the hole only after the mass of ground water forced me to finish.
Dig
Video
As a type of document to the performative action where I dug an abstracted form of my grave, I looped the sounds of my digging with a small clip of the grave after I refilled it.
One-Hour Brush
Video Still

Considering the banality of daily tasks, I amplified a moment beyond itself, into something else altogether, something longer. Brushing my teeth for an hour, I documented my extension - moving between the ease of normalcy, into something more uncomfortable.
Voyeuristic Containment
Performance Document

With no windows in or out, I lived on display, with peep-holes for viewing, for a continuous 100-hours; existing somewhere between solitary confinement and a peepshow. Stemming from both Michelle Foucault's Discipline and Punish and Laura Mulvey's Visual Pleasure in Narrative Cinema, I embodied "to-be-looked-at-ness" while living inside of a panopticon - existing both as the guard and the prisoner of my personal display cage.
Basket Burning
Performance Document

I created a basket for burning in Whatcom Creek as a process of catharsis. In the middle of November I dressed in white and entered the creek with a flaming vessel. The basket laid on my belly, smoking in burning while I floated in the moving water. After a time, I submerged myself and the basket fire went out